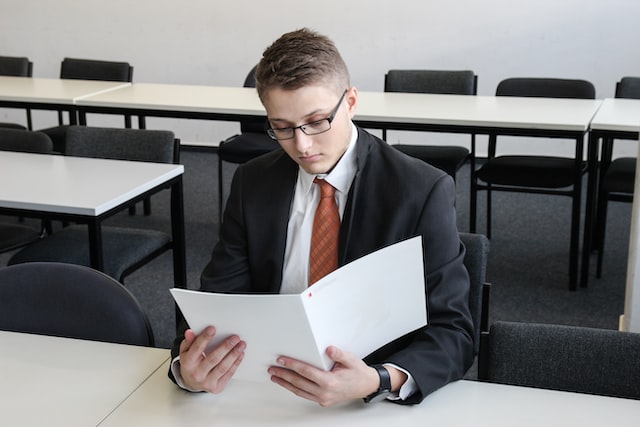 Whether you're in college or are about to graduate, having a top-notch resume is one of the best tools in securing a stellar job. Before you start applying, you need a resume that will make you stand out from the other applicants, so here are some resume-building tips for college students that will help you shine.
Start With Your Contact Information
The first section of your resume should include your contact information — your name, email address, and phone number. Feel free to include a link if you have an online portfolio or LinkedIn account. This section is crucial because employers need to be able to contact you if they're interested in scheduling an interview. And please remember to have a professional email address that utilizes a variation of your first and last name.
Create a Resume Objective or Summary Statement
The resume objective or summary statement is a brief overview of your skills and qualifications. This section is significant for college students and recent graduates because it allows you to highlight the relevant coursework and internships you've had.
If you don't have much work experience, your resume objective or summary statement can focus on your education and skills acquired through internships instead. Highlight your extracurricular activities and awards as well.
List Your Education
Next, list your education in reverse chronological order. Include the name of the school you're attending (or attended), your degree, and any relevant coursework or honors you received. You can also include your GPA if you're a recent graduate.
Include Work Experience
If you have any relevant work experience — whether paid or unpaid, full-time or part-time — you should include it in your resume. This could consist of internships, summer jobs, and even volunteer work. List your duties and responsibilities for each role and any accomplishments. Think of it as letting employers know what you can do if they hire you as a part of their team.
List Your Skills
In addition to listing your work experience and education, you should also list any skills that would make you a good candidate for the job. This could include skills like computer programming, good communication, teamwork, organization, etc. Include any significant certifications or licenses, too.
Time to Write That Resume
These resume tips for college students will help you get started! You can also check templates online to give you an idea of how to format your resume. Additionally, consider keeping your resume to one page, so it will be easier for employers to read. Remember, keep it clear, concise, truthful, and don't skip the proofreading, either! Have someone read over your resume to catch any typos or grammatical errors, and keep in mind, your university may offer proofreading services, as well as resume-building guidance. Best of luck with your job search!