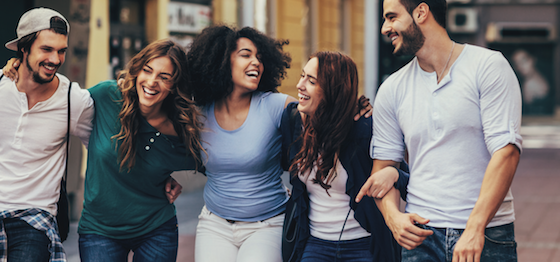 We hope you had a wonderful and restful winter break, and we're excited to start a new year with you! Keep an eye out for announcements and events going on throughout the month, and good luck with your first days back at school!
Maintenance Tips 
When you turn on your heater, you may experience a burning smell — don't panic! This is normal and will go away shortly.
If you have any service requests, just put in a work order via your portal, call the office, or stop by during office hours.
Reminders & Updates
Want to stay updated? Text REPUBLIC to 47464 to opt in to our text messages. You will receive emergency notifications as well as updates on events and maintenance.
Make sure to follow us:
Twitter: republicatSH
Instagram: liveatrepublic
Facebook: Republic at Sam Houston
Pinterest: The Republic
Snapchat: liveatrepublic
Turning Resolutions into Reality
Did you know that only 8% of people are successful in keeping their New Year's resolutions? While that may sound discouraging, there are some very practical ways to beat the odds and see success this year! Whether you make New Year's resolutions or are one of the 38% of Americans who absolutely never makes them, anyone will benefit from a commitment to continuous improvement. Here are some tips for a successful 2017 — and beyond:
Define your "why": Whether your goal is to improve your GPA or get in better shape, create a "why" statement for any goal you have. Achieving goals can be challenging, so make sure you stay motivated by keeping the purpose in mind!
Write it down: According to numerous studies, the simple act of writing down your goals increases your likelihood of success significantly. When you write down your goals, make them specific and measurable, and put your goals somewhere you will see them.
Tell a friend: Another factor shown to increase your likelihood of success is telling a friend about your goals. You increase success even more when you share progress reports with them.
Take action: Always ask the simple and powerful question, "Is what I am doing getting me closer to where I want to be?" If the answer is yes, keep going! If no, try to make progress by taking even a small step in the right direction.
Enjoy the journey: Remember that much of the benefit of intentional improvement comes in the process, so take time to reflect, assess, and enjoy the journey!
As a resident at a Campus Advantage community, we are committed to much more than providing you a great place to live. Our mission is also to help create rewarding living, learning, and career experiences. Whether it's referring you to a campus resource or just talking through your goals with someone on our team, please let us know how we can help you make this the best year yet!
Community Events Calendar
Backpack Prep — Tuesday, January 17 from 10:00 a.m.–2:00 p.m. — Come to the front office and fill your backpack with essential items for the spring semester!
Jeopardy — Tuesday, January 17 from 6:00–7:30 p.m. — Meet us in the clubhouse with a team of two people and compete against each other Jeopardy style!
Back-to-School Cereal Bar — Wednesday, January 18 from 10:00 a.m.–1:00 p.m. — Stop by the front office for a nice breakfast before going to class.
Back-to-School Fest — Wednesday, January 18 from 6:00–7:30 p.m. — Celebrate the new semester with Republic's back-to-school event! We'll have food, drinks, s'mores, and more in the clubhouse!
January Birthdays — Wednesday, January 25 from 10:00 a.m.–7:00 p.m. — Meet us at the office to help celebrate January birthdays. We'll be providing goodies and taking birthday pictures.