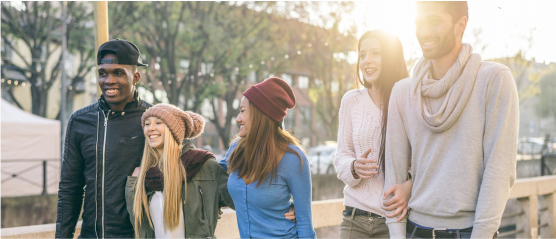 Stop by our office to celebrate your accomplishments with treats from the office staff and to have your picture taken for our Facebook and office slide show.
Maintenance Tips
When you turn on your heater, you may notice a burning smell — don't panic! This is normal and will go away shortly.
If you have any service requests, just put in a work order using the online portal, call the office, or stop by during office hours.
Reminders & Updates
Want to stay updated? Text REPUBLIC to 47464 to opt in to our text messages. You will receive emergency notifications as well as updates on events and maintenance.
Make sure to follow us:

Twitter: republicatSH
Instagram: liveatrepublic
Facebook: Republic at Sam Houston
Pinterest: The Republic
Learn. Celebrate. Observe. Grow.
The month of December marks a number of religious and cultural holidays. During this season, we encourage you to learn more about your friends and neighbors as we celebrate the differences that make us unique and the similarities that bring us together in our communities.
December 8 is Bodhi Day. This Buddhist holiday commemorates the day the historical Buddha, Siddhartha Gautama, reached enlightenment under the Bodhi tree at Bodhgaya, India.
December 12 is Feast Day of Our Lady of Guadalupe. This day honors the belief that Jesus' mother Mary appeared to a man in Mexico City in 1531.
December 12 is also the Prophet's Birthday, or Mawlid as it is commonly known in Muslim culture. The day celebrates the birth of the prophet, Muhammad.
December 16–24 is Las Posadas. During this nine-day celebration — celebrated chiefly in Mexico, Guatemala, and the southwestern United States — the trials Mary and Joseph endured during their journey to Bethlehem are reenacted.
December 21 is the Winter Solstice, the shortest day and the longest night of the year. Worldwide, this has been recognized in various ways across cultures, including many focused on rebirth and renewal.
December 24–January 1 is Hanukkah, also known as the Festival of Lights. This eight-day Jewish holiday is observed by lighting candles on a menorah, one for each day of the festival.
December 25 is Christmas, an important holiday in the Christian religion representing the birth of Jesus Christ. It is traditionally celebrated with gift giving and candle lighting.
December 26–January 1 is Kwanzaa, a weeklong African-American celebration started by Maulana Karenga in 1966 to celebrate universal African heritage in African-American culture. It is observed by lighting candles each day to represent each of the holiday's seven core principles, culminating in a feast and gift giving.
We wish each of you a wonderful month and an enjoyable winter break!
Community Event Calendar
Holiday Door Decorating Contest — December 1–16 — Decorate your apartment door for our Door Decorating Contest! To be entered into the contest, just submit your apartment number for judging by December 15 using the sign-up sheet in the front office. There will be prizes for 1st, 2nd, and 3rd places.
Holiday Jubilee — Friday, December 2 from 6:00–7:30 p.m. — Come out to the front office for loads of holiday-related fun! We'll watch a holiday movie with treats and hot chocolate, decorate sugar cookies, as well as have a present-wrapping station, giveaways, and a caroling competition. Come spread some holiday cheer!
Ugly Sweater Contest — Friday, December 2 from 6:00–7:30 p.m. — Come out to the front office for our Ugly Sweater Contest! Wear your most tacky, spirited sweater. We'll announce the winners at the party. There will be 1st and 2nd place winners, so make sure to come wearing all your holiday spirit on your sleeves!
Cookies and Cocoa — Wednesday, December 14 from 6:00–7:00 p.m. — Come to the clubhouse and jam to festive music while socializing and enjoying hot cocoa and cookies.
December Birthdays — Thursday, December 15 from 10:00 a.m.–7:00 p.m. — Happy birthday, December babies! Look for a personalized birthday card from the office staff delivered to your door.